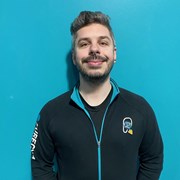 Callum Ford
Hi, I'm Cal.
I'm an experienced Personal Trainer at PureGym Beeston. I have the knowledge and enthusiasm to help you reach your fitness goals, regardless of whether you're new to the gym world or are an elite athlete wanting to improve or hit new targets. In addition, I also specialise in running-based conditioning.
I help people train for events and challenges from 5k to marathon to triathlons and more, whether you are new to running or trying to beat your personal best! I believe every single person on this planet has at least a half marathon in them and it's my job to help you get there!
Personally, I have succeeded in finishing multiple marathons and triathlons including Ironman. Training is my passion, I love my job which fuels my enthusiasm to see my clients reach their full potential while enjoying themselves! After running more than 15 obstacle events through the years I have a great view of what to expect and how to successfully train specifically for these events.
If you are interested in training smart and accomplishing more than you ever thought possible then get in contact with me for your free consultation!
Specialist Areas
Body fat reduction
Injury prevention and rehabilitation
Sport specific training
Strength and conditioning
Weight loss
Qualifications
Level 3 Personal Trainer
Level 2 Gym Instructor
Spin Instructor
Running Based Training (Speed and Endurance)
Triathlon Specialist