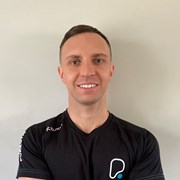 Charles Blain
Hi
I'm Charles!
A little background on me:
I started my fitness journey over 10 years ago. I remember that feeling of walking into the gym for the very first time feeling nervous and daunted by the whole experience.  I was looking to get fitter and build muscle to improve my self confidence, not really knowing where to start. With a background working as a chef, I soon realized that food and fitness work hand in hand. It was at this point I found I already had many of the skills to help me become a personal trainer, so I set about making this dream a reality.
What I can offer:
I can help you achieve your fitness goals whether it be weight loss, muscle toning, improving cardio fitness or nutritional advice. As someone who has struggled with confidence in the past, I understand how hard it is to change your mindset to get focused on exercise. We can work together and motivate you towards achieving your fitness goals with hard work and determination.
So if you are in the gym feeling nervous and daunted by the whole experience, come on over and say hello I am here to help and support you, with a friendly face and professional service!   
Specialist Areas
Body fat reduction
Muscle tone and development
Nutritional guidance
Strength and conditioning
Weight loss
Qualifications
Active IQ Level 2 fitness instructor.
Active IQ Level 3 in fitness instructing and Personal training and nutrition.
Active IQ Level 3 In nutrition for sports and exercise performance.
Level 4 Optimum Nutrition for Health and Performance.