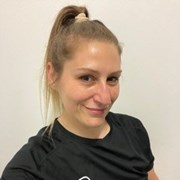 Chiara Albrizio
Hello, I am Chiara
Embracing a healthier lifestyle and regaining body confidence is a powerful experience. I understand this first-hand, having overcome my own obstacles in fat loss and after a gnarly back condition.
Fitness is about embracing movement at any age (I'm in my 40s now and only started my own journey in late 30s), nourishing your body, and enhancing overall health and mental well-being.
It's a journey of developing confidence, facing challenges, finding solutions, and fostering a supportive community. It's personal! There's no one-size-fits-all solution.
Resistance Training gave me freedom of movement and empowered me to discover so much about myself. I LOVE to Deadlifts. If you ask me about it, I may not shut up. They're my favourite! I specialize in creating dynamic programmes that keep you engaged and progressing while having fun.
As your coach, I focus on beginners and individuals who haven't achieved their desired results, and are not sure what to do on the gym floor. I'll teach you proper lifting techniques, help you feel amazing in the gym, and guide you toward a sustainable nutrition lifestyle Together, we'll break free from the diet mindset and dispel myths.
Living a healthy lifestyle is a unique path for each individual
I find immense reward in witnessing clients, like me in the past, conquer their fears, embrace exercise, achieve personal bests, and enjoy food freedom while reaching their goals.
My mission is to cultivate a community of individuals who openly share their experiences and support one another on this remarkable journey. Together, we'll create positive change in gym culture.
I'm excited to be YOUR Coach!
Let's start this incredible adventure together!
Specialist Areas
Body confidence
Functional specialist
Muscle tone and development
Nutritional guidance
Strength and conditioning
Weight loss
Qualifications
AFN NASM LEVEL 4 NUTRITION COACH
NASM WOMEN'S FITNESS SPECIALIST
LEVEL 3 PT & INSTRUCTING