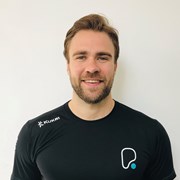 Chris Bell
I have been Personal Training for almost ten years, taking thousands of sessions and helping hundreds of clients achieve their goals in the gym. I have always had a real passion for exercise, nutrition and wellbeing and this has been reflected in both my career as a trainer and my academic studies in sports, nutrition, psychology and body image.
I like to combine the practical elements of helping people improve their fitness, diet and wellbeing with the academic theory that I have studied over the past ten years to help achieve the best possible results, whilst having fun in the process.
Needless to say, it is important to emphasise the "Personal" in Personal Training and I have always prided myself on working to each individual's needs so that anyone who trains with me receives a service tailored to them.
Qualifications:
- BSc Sports Studies
- MSc Human Nutrition
- PhD (studying) Exercise Motivation, Body Image and Social Media
Specialist Areas:
Body Image/Confidence
Muscle tone and development
Nutritional guidance
Strength and conditioning
Weight loss
Instagram: @chris_bell_pt
Specialist Areas
Body fat reduction
Muscle tone and development
Nutritional guidance
Strength and conditioning
Weight loss
Qualifications
• Level 3 Personal Trainer
• BSc Sports Studies
• MSc Human Nutrition