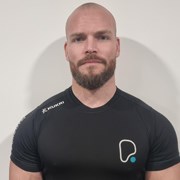 Chris Cook
Are you looking to transform your lifestyle and take it to the next level?
I am here to produce life changing results for my clients, its that simple.  Personal training is a powerful process which allows you to be coached on a personal level to achieve your desired goals.
It doesn't matter if you want to build that summer bikini body, improve general body confidence, fit into your favourite shirt or even take it to the competitive stage, I have you covered.
I transitioned into Bodybuilding 15 years ago, with 5 years experience as a personal trainer, I have just spent 8 months working as a trainer in Dubai in 2021.
I have competed on stage 9 times between 2017 – 2019, 3 wins and my WBFF pro card to list some achievements.  This process has helped me gain invaluable experience which I want to give back to my clients and to the community.
So my question to you today is, are you achieving the results you desire or just training with no end results? Do you walk into the gym with confidence and drive to succeed or a complete lack of confidence?
If not, come say hi and let me guide you to building a stronger, better version of yourself!
Specialist Areas
Body fat reduction
Muscle tone and development
Boxing
Qualifications
-Level 2 Fitness Instructor
-Level 3 Personal Trainer
-Nutrition Certified