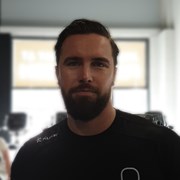 Chris Wright
Hi, I'm Chris.
I started my fitness journey from a young age playing football and athletics. I coached football for a few years, however, my main focus was always lifting weights and challenging myself not only in the gym but also when it comes to nutrition.
Over the years, my fitness level and body shape have changed a lot, along with my confidence. I have a lot of passion for fitness and know that with hard work and determination you can become both mentally and physically strong.
I now want to help people achieve their goals with the experience I have gathered. I'm always learning new techniques or methods of training as I am never satisfied and always want to do more by applying this commitment to my own sessions, which means pushing hard and being able to smash my targets.
Anyone who wants to change and start a journey in fitness, no matter what level of fitness they are at, will achieve great results with me. I can help you achieve your goals both mentally and physically. I will keep it fun and enjoyable along the way but assist you in finding the strength within you and motivate you to achieve your desired results.
Specialist Areas
Body confidence
Body fat reduction
Muscle tone and development
Nutritional guidance
Strength and conditioning
Weight loss
Qualifications
Level 2 Gym Instructor
Level 3 Personal Trainer