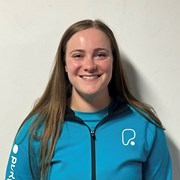 Clare McConnachie
Since a young age, I've always been very passionate about sports and training. From swimming competitively to strength training in the gym. Through my own fitness journey with fat loss, building muscle/ strength and battling with maintaining my fitness levels, I have learned to optimise what my body can do and physically and mentally to be the best version of myself.
My experience and the knowledge I have learnt have assisted me in becoming a highly-motivated and driven personal Trainer who is passionate about delivering results for clients.
So, I'm here to help my clients with correcting technique, educating them on the topic of nutrition, create new habits and most importantly, helping them to apply this knowledge to reach their goals. My aim is to simplify the process as much as possible, so it is stress-free!
If you wish to join the team, I promise to deliver high- quality sessions with the tools you need to hit your goals and most importantly stick to them to create long-term success in your new heathy lifestyle.
If your interested feel free to get in touch or come say hi on the gym floor! And let's get that free consultation booked in.
Instagram: @COACHCLARE.PT
Specialist Areas
Bespoke plan
Body confidence
Body fat reduction
Muscle tone and development
Nutritional guidance
Persistent motivation
Strength and conditioning
Weight loss
Qualifications
BSc in Sports & Exercise Science (Hons)
Level 3 Personal Training
Level 4 AFN Nutrition Coach