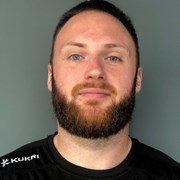 Damon Callis
After 10 years as professional chef and development coach, my passion for food, fitness and self-development led me to embark on a huge career change.
Certifying as a Personal Trainer, Strength and Conditioning Specialist and Sports Massage Therapist, my desire is to help others become the strongest version of themselves both physically and psychologically through strategic planning, education, and support.
Along my own journey of weight loss and transformation, I have competed as a natural powerlifter and taken many stumbles but, every fall was a lesson learned and I wish to help you from taking the same stumbles.
My mission - to help YOU become fitter, faster, stronger and more confident than ever before!
As a team, we can make sustainable lifestyle changes to achieve your goals and reach higher than you thought possible, whilst being fun and enjoyable, effective and delivering the results you desire! Whether this be weight management, strength and muscle building, nutritional guidance and planning or general health and wellbeing, I got you covered!
Instagram - @tnrcoaching
Specialist Areas
Muscle tone and development
Nutritional guidance
Persistent motivation
Strength and conditioning
Weight loss
Qualifications
Level 2 Fitness Instructor
Level 3 Personal Trainer
Level 3 GP Referral 
Level 3 Strength and Conditioning 
Extensive Nutritional Knowledge