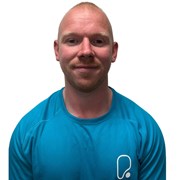 Dan Scanes
Do you want to build confidence in the gym and improve your health? 
Great, I'd love to help you! 
I like to break down how we'll get you to your goals into: Foundations, Balance and Effort. 
Without building solid foundations the changes we make won't stand the test of time. 
Next, we look at the balance of your life, an all or nothing mindset only ever leads to giving up. 
All I need from you is your best effort, we aren't looking for, and don't need perfection. 
If you communicate via BSL I am level 3 qualified and are happy to help, I don't want anyone to be excluded from achieving their health and fitness goals.
Specialist Areas
Bespoke plan
Body confidence
Body fat reduction
Muscle tone and development
Persistent motivation
Pre and post natal
Special populations
Strength and conditioning
Weight loss
Qualifications
Certified Level 3 – Personal Trainer
Level 4 Strength and Conditioning
Pre and Post Natal Certified
Level 3 British Sign Language