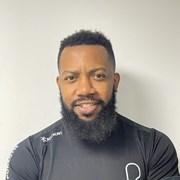 Contact
Free first session offered
Email me
Darrell Williams
I've been have been working in the fitness industry the last few years and have always had a passion for helping people make choices that benefit them.
I care deeply about my clients and there's nothing of more value to me than helping somebody go through an experience that makes them Happy, Confident and Strong! 
In our PT sessions YOU can expect to find and exceed your limits, I'll motivate you to put the work in, give you tailored workout sessions & programs that make it easy for you to stay consistent and create healthy Habit to Reach your Fitness Goals.
I specialise in high intensity training aimed at burning body fat and helping you feel great! I can also assist in helping you build muscle, increase strength/ endurance and most importantly Feeling Better. I'll guarantee to boost your endorphins and have you leaving the gym on a high!!! 
Send me a WhatsApp, text, call or email to say hi or to Book a FREE Session with me Today! 
I can't wait to get started!
Specialist Areas
Body fat reduction
Muscle tone and development
Weight loss
Qualifications
Level 2 Fitness Instructor 
Level 3 Personal Training
First Aid