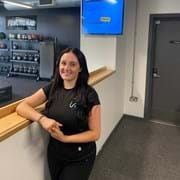 Dayna Markey
I've been training since 2018 when I first started my fitness journey, I was a figure skater but shortly lost my passion due to finding a social life as a teen, I was that quiet kid in school so I loved the party life. I hit an all-time low with my mental health as I had gained so much weight by surrounding myself with the wrong people! I found the gym as my happy place, a place to release stress and anxiety. I made friends who liked to train the same way. I got myself a personal trainer and achieved great results because I asked for help, I then decided this is my passion I want to help others who have been in my shoes. 
I know and understand how you feel when you're choosing your outfit for your night out, you feel fat, as if everyone can see the podgy bits and when you take group photos you are hiding at the back or to the side because you don't want everyone to think 'ohhh jeez shes put on loads of weight' 
I've been there, and I know exactly how it feels and it's not great, now my mission is to help people similar to you who want to feel amazing in that dress or feel like your partner can't keep their hands off of you. 
We all want to feel strong, sexy and confident in our own skin. 
I can help you achieve this. I'll be your biggest fan, cheering you on the entire time. I want to see you on your fitness journey and I want to help you create a healthy balanced lifestyle that is sustainable and enjoyable at the same time. 
Specialist Areas
Body confidence
Body fat reduction
Muscle tone and development
Nutritional guidance
Pre and post natal
Weight loss
Qualifications
Active IQ level 2 gym instructor
Active IQ level 3 personal trainer
Active IQ emergency first aid at work
Active IQ level 2 studio cycling
Active IQ level 2 circuit training
Active IQ level 3 Pre & Post natal