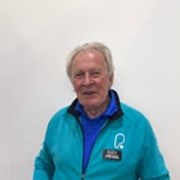 Contact
Free first session offered
Email me
Eddy Diget
I am 77 years old, Competed and Coached personally, at UK, European, International events in
diverse sports.
Represented England Commonwealth Games, Perth, Australia. 1962
22 years RN. Medical, Retired 2001.
Since 2002 to date - in Fitness Industry. PT. PT Manager. Regional Manager. Master Trainer. Rehab
Specialist. Training individuals to meet goals and to get them fit - very diverse training sessions!
Experience covers 45 years + Resistance / Body Building. British Natural Bodybuilding Champion
twice at 58 and 68.
50 + years Studying / Teaching Chinese Martial Arts. 2012 'Graded' to Shaolin Master, "Shifu" by
Shaolin Warrior Monks from China.
Specialist Areas
Bespoke plan
Body confidence
Body fat reduction
Functional specialist
Injury prevention and rehabilitation
Muscle tone and development
Nutritional guidance
Persistent motivation
Postural correction
Pre and post natal
Special populations
Sport specific training
Strength and conditioning
Weight loss
Boxing
Qualifications
•
Rehab, pre and post natal
•
Advanced functional training