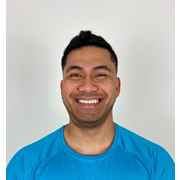 Edward Cocker
I grew up living a very physical lifestyle in Tonga, so I've always understood the importance of being healthy and keeping your body fit.
When I started playing sports (rugby, volleyball, AFL) I became more interested in learning about how to keep myself in shape and also found myself helping to train those around me which I loved doing.
This passion led me to gaining a degree in Hawaii (Exercise Sport Science) and becoming certified as a personal trainer in the UK.
Throughout my education and experience, I've become a big believer in longevity - training in a way that helps you achieve your fitness goals while contributing to your long term health.
So, whether it's losing weight, toning/gaining muscle or improving your physique, I'd love to help you in your journey!
Specialist Areas
Body fat reduction
Muscle tone and development
Nutritional guidance
Strength and conditioning
Weight loss
Qualifications
Bsc Exercise Sport Science
Level 3 Personal Trainer
Nutrition Advisor