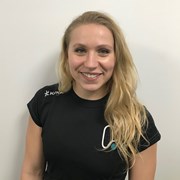 Emma Crosby
I love my job! Five years into my career and I am lucky to have trained over 1,000 people helping them achieve their goals! People often come to me looking to transform their physiques, usually fat loss or 'toning' up. The interesting fact is that I have used different methods for each and every one! Which is why I love it, not one shoe fits all and it's my job to find the one that fits you!
I take people away from the 'all or nothing method' and build easy step by steps that tailor to your goals and lifestyle. The goal is to create a process that is sustainable!
When it comes to training, I work it around what you enjoy! After all, I would never do a training session that I didn't find fun myself. We will also get you to treat training in the gym like an athlete, establishing goals monthly. This is my favourite part, watching people fly through progressions of exercises: achieving their first press ups, pull ups, barbell squats etc. 
Everybody gets a free consultation; in this hour we will discuss your goals and lifestyle. We will establish where you are currently at and work out how to get you to where you want to be. Following this we will assess your movement and work out where you may be prone to injury and how to improve your techniques for exercises you enjoy or would like to do. If you would like to book this then give me a call/message! Would be great to meet you!
**DISCLAIMER ** When you PT with me you are not paying for an hour per week of my time, you are asking me to help you on your journey which is a daily process - Utilise that!
Specialist Areas
Injury prevention and rehabilitation
Postural correction
Sport specific training
Strength and conditioning
Qualifications
Active IQ Level 3 Certificate in Personal Training
Active IQ Level 2 Certificate in Fitness Instructing (Gym)
FDN Nutrition & PN Nutrition