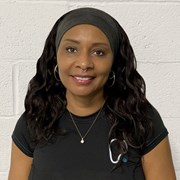 Enid Coleman
"One day, or day one. You decide."
Firstly, thank you for reading my personal profile and this being the first step to achieving your fitness and body goals.
If you are looking to build confidence in the gym and are serious about achieving your fitness and body goals, then I can give you the motivation and exercise programme that will start you on your journey to success.
I want to inspire you to be the best version of you.
I too have been on that journey to transform my body. I have been slim, overweight, very lean, and sculpted, to where I am now and at my happiest. That is, with good muscle tone but keeping my curves.
I was not blessed with curves or a booty but have built my gains in the gym and with the right nutrition. Body resistance exercises are key, not only for changing your physique but for your daily body functioning too.
I will be working with you every step of the way and to offer a personalised service in the gym. I can also offer online support to help you keep on track.
For your free introductory consultation, you can contact me by:
Mobile: 0758 1071271
Email: [email protected]
Specialist Areas
Body confidence
Body fat reduction
Functional specialist
Muscle tone and development
Nutritional guidance
Strength and conditioning
Weight loss
Qualifications
. Level 2 Fitness Instructor 
. Level 3 Personal Trainer