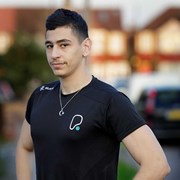 Erkan Djafer
I joined the fitness industry because of my love for all things sport, growing up a football, boxing and WWE fan made me take a real interest in fitness and how others adapt their bodies to different environments.
I have been bodybuilding myself for 8 years, constantly working on myself whether that be on own muscle mass, working on neuromuscular skills for football or recovering from injuries.
I have spent the past 8 years working as a chef, the final 4 years as a chef de partie, feeding Tottenham hotspur 1st team and academy players so my nutritional knowledge is as strong as it can currently be especially when adapted to athletes and for people looking to achieve fitness goals.
I believe in building a healthier you and believe that anyone can reach their fitness goals with the right application, it should be a way of life and not something you need to struggle to achieve, let me set you on the path to who you want to be.
Specialist Areas
Bespoke plan
Body confidence
Muscle tone and development
Nutritional guidance
Sport specific training
Qualifications
Certified Level 2 – Fitness Instructor
Certified Level 3 – Personal Trainer