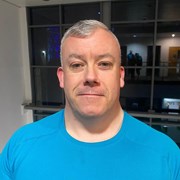 Contact
Free first session offered
Email me
Fraser Rowand
After serving in the military for over thirteen years and being very active, I found myself suffering from mental health issues. As a result of this I found myself gaining unwanted weight and becoming extremely inactive with extremely low self esteem.
Having found the gym again I have realized what the power of sport/powerlifting has done to improve my mental health. This has pushed me to become a personal trainer and has now changed my life for the better.#
My aim now is to offer support and guidance with your goals whether it is losing weight, finding that motivation or just finding the new you!
Grab me in the gym, or if you are in any of my classes feel free to have a chat.
I can help you get stronger! 
Specialist Areas
Bespoke plan
Muscle tone and development
Nutritional guidance
Strength and conditioning
Weight loss
Qualifications
Level 2 Gym Instructor
Level 3 Personal Trainer 
Olympic Lifting Level 1