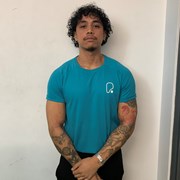 Gareth Angelo Pontipedra
I aim to inspire others and help them achieve their goals. Approaching it not only from a physical aspect but also a mental one. 


My journey within fitness was never straight struggling with weight, being the heaviest I've been at 95KG. I now stand at the healthiest state I've been in years, going through a full body transformation. Like most I can understand the struggles of first training and trying to achieve a goal. However, my goal is to help you take that first step.
Of that step is fat loss, gaining muscle of strength gaining, my training style is very diverse. 


I offer 1 on 1 sessions or group sessions with a maximum of 3. Enquire via my contact details or face to face. 


I look forward to meeting you.
Specialist Areas
Body confidence
Body fat reduction
Nutritional guidance
Strength and conditioning
Weight loss