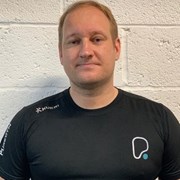 Gary Blackhall
Hi, my name is Gary and I absolutely love fitness and working out. It's not just a hobby for me but a passion and a way of life.
Sport and fitness is not about theory, but actual experience. I come from a very sporting family and therefore have taken part in various sports at reasonably high levels. My main sport was football which I started at a very young age and had some success at; I played for West Bromwich Albion, Walsall, Tipton and was chosen when a schoolboy to represent district and county areas. I also did athletics, long distance, long jump, played in hockey teams, cricket teams and even had a spell playing in a netball team!
So I'm pretty much well rounded when it comes to sports and knowing what it takes to get the best out of people. My favourite kind of training is a mixture of everything; cardio, weights, dance, boxing and every other method I can possibly think of. I do not abide by the established rules of training for I believe rules set limitations to you and therefore prevent progress.
I like to experiment and invent new ways to train; for why tread the same beaten path as everybody else? But above all things exercise should be fun, therefore I make it a priority when teaching to make sure my clients enjoy themselves. You will find I'm pretty is easy to talk to.
I find so many people in the gym afraid to go up and ask for advice from our Personal Trainers, yet I want to encourage it by making people see there is nothing to stress about. So if your aim is to generally lose weight and tone up then I'm your guy. I promise if you put in the time and dedication then we will get you the results you want!
Specialist Areas
Body confidence
Body fat reduction
Muscle tone and development
Weight loss
Qualifications
Level 2 Fitness Instructor
Level 3 Personal Trainer 
Level 3 Nutrition