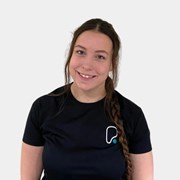 Georgia Williams
My personal journey with fitness has been full of challenges finding what works for me. Once I found what I love, reaching my goals was easy – I lost 3 stone and gained a great new passion for fitness! I want to help others find what they enjoy and fall in love with their own fitness journey, and themselves!
Achieving your fitness goals can seem like a difficult & strenuous journey to embark on, but it doesn't have to be! Finding what works for you and implementing small changes will reap the sustainable results – and that's what I'm here to help you with!!
I will help you achieve your goals, get confident & strong; all whilst still enjoying your life, learning to love the process, and maintaining the results after!!
LET ME HELP YOU BECOME THE BEST VERSION OF YOURSELF!
Come say hi if you see me around the gym, or feel free to contact me.
Specialist Areas
Body confidence
Body fat reduction
Nutritional guidance
Persistent motivation
Strength and conditioning
Weight loss