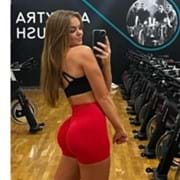 Grace Turner
I have always had an interest in the gym and transforming myself but at the beginning didn't have the confidence to go onto the gym floor as we all know it can be intimidating.
Over the last 2 years I've changed my mindset from the gym being somewhere I was scared of To the best part of my day and I'm here to help you do the same!
I can help you in transforming your body and building that confidence to help you grow and create the lifestyle you desire.
It doesn't matter where you are in your fitness journey we can make those positive changes together. I can create you a personalised plan to your long and short term goals to help you achieve them without making crazy changes!
 Drop me a message to get started :)
Specialist Areas
Body confidence
Body fat reduction
Muscle tone and development
Nutritional guidance
Sport specific training
Weight loss
Qualifications
Level 2 Fitness Instructor
Level 3 Personal Trainer