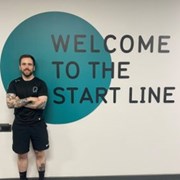 Greg Allan
I believe that everyone is an athlete deep down. All it takes is the correct guidance to help you achieve your goal(s), and this is why  I am here to help.
Having trained for a few years and getting experience in different modalities of training, I understand how to make your experience with me as your personal trainer the best it can be.
I used to be the person who did not have a clue about how to train properly and lacked confidence. I soon realised with small habit changes and having self-belief in taking on new challenges can go a long way in your fitness journey.
Everyone's fitness journey starts at different points in their lives so never feel it's too late to start now. I am also here to help you understand the importance that good movement can go a long way to getting one step closer to your goal(s).
If this is what you are looking for then don't hesitate to contact me to start your journey of becoming a better version of yourself!
Specialist Areas
Body confidence
Strength and conditioning
Weight loss
Qualifications
Level 3 Personal Training
Level 2 Gym Instructor