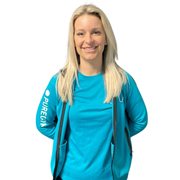 Helen Harris
Hi, I'm Helen, a certified personal trainer and wellness coach with a unique background in both the fitness and healthcare industries. With 10 years of experience as a nurse and 10 years of personal experience in the fitness industry, I bring a wealth of knowledge and expertise to each of my sessions. 
As a mother of two children, I understand the challenges of balancing motherhood and fitness. That's why I am dedicated to creating a supportive and encouraging environment for my clients to reach their goals. I offer customized workout plans tailored to each client's individual needs and goals, whether they're looking to build strength, increase flexibility, or simply adopt a healthier lifestyle. 
In addition to one-on-one training sessions, I also offer small group training, nutritional coaching, and lifestyle counselling. I take a holistic approach to wellness, incorporating my background in healthcare to provide a comprehensive look at each client's health and wellness to help them make lasting changes and achieve a healthier, more balanced lifestyle. 
Here at Pure Gym, you'll receive the support, encouragement, and guidance you need to reach your goals and become your best self. Whether you're just starting out on your fitness journey or looking to take your training to the next level, I am here to help. I know how daunting it can be to start working with a personal trainer, but I promise to make it a positive and empowering experience for you. Get in touch today to learn more! 
Specialist Areas
Muscle tone and development
Nutritional guidance
Pre and post natal
Weight loss
Qualifications
Level 2 fitness coach/ Level 3 Personal Trainer 
Bsc Hons Nursing degree  
First Aid 
Trainee mental health & exercise coach