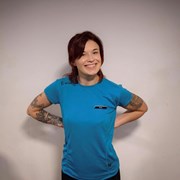 Contact
Holly Kisby
I like to keep things realistic, its easy to look at fitness pages on social media and be demotivated, dedicating yourself to fitness fulltime isn't realistic for most people. My coaching is based around your everyday routines, commitments and is adapted to help you to learn ways to incorporate health and fitness into life, enhancing it, without making it more difficult or overwhelming.
I pride myself in understanding psychological disorders and processes, not only in how they can affect a persons life or in their view of health and fitness but also the ability we all must earn to control the way we think and feel. Everyone's relationship with health and fitness is different, therefore, its important to me that your experience is based around you as an individual. I will work with you to understand and set our goals, taking your preferences into account and finding out what things keep you motivated.
I work with mostly but not exclusively, females between the age of 20-40 and we work through habit building, accountability, balanced diet/nutrition and coaching around physical/mental wellbeing.
They have and you can learn skills that you can use for the rest of your life.
Specialist Areas
Bespoke plan
Body confidence
Body fat reduction
Muscle tone and development
Pre and post natal
Weight loss
Qualifications
Level 3 Personal Trainer
Pre Post Natal Exercise
Nutrition and Weight Management
Circuit training
Advanced resistance training
Behavior change
Functional Training