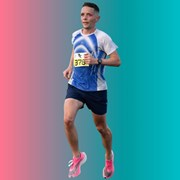 Ian Scarrott
L3 Personal Trainer & Run Coach
All I ask from you is a can-do, willing to try, and give things a go attitude!
Pushing you beyond your limits, showing you all things are possible and helping you Find Your Victory whether you want to lose weight, tone up, get strong or take on your next running race.
I want to help you get healthier, fitter and feel happier, it should be a fun process that you enjoy.
Feel free to Email me for personal training or run coaching support.
A little bit about my journey...
Like you I face barriers every day on a personal and professional level, as well as with my own fitness, which I have learnt to over come:
In 2018, I suffered a triple break and dislocation of my right ankle. I spent nearly 9 months in the gym rehabbing, completed the couch-to-5k programme, and after entering a local race, won my first triathlon back.
For me sport, training & running have helped me feel more confident, deal with the stresses of the day and provide much needed accountability and structure to training.
I'm now in my late 30s and have been a runner for 20 years at club level, have been coaching & been coached for around 10 years, and represented Team GB in the Triathlon Age Group World Championships in 2016. So have plenty of experience to help you on your journey.
Whether you're looking to lose weight, tone up, get strong, or hit those run goals I'm here to help you Find Your Victory.
Contact me via [email protected] or call/message me via WhatsApp on 07710379019.
Ian Scarrott
TriClub | Find Your Victory
www.triclub.co.uk
WhatsApp Tel/Msg: 07710379019
Specialist Areas
Bespoke plan
Body confidence
Body fat reduction
Functional specialist
Injury prevention and rehabilitation
Muscle tone and development
Nutritional guidance
Persistent motivation
Sport specific training
Strength and conditioning
Weight loss
Qualifications
Level 3 Personal Trainer
Level 2 British Triathlon Federation Coach
Level 2 Gym Instructor
Level 2 Training Peaks Coach 
Level 1 UK Athletics Run Leader
Emergency First Aid Qualification