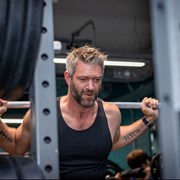 James Mitchell
Struggling to make changes or just need some extra motivation?
Not sure what to do or find the gym an intimidating place?
If that's you, choose me as your personal trainer. Specialising in body confidence I can help and coach you to feel less intimidated, whilst finding your confidence in the gym.
With confident coaching I work with people who want to build their confidence in the gym both mentally and physically. This helps transform your life both inside and outside the gym.
My methods are to support you and to keep things simple. Helping you enjoy a better diet and manage the gym around your lifestyle. Coaching you to make great progress in the gym without punishing yourself. Helping you to become independent and self-sufficient in the gym.
I've had my own health conditions and understood the frustrations in pushing yourself, yet you feel weaker and not seeing the results you want.
I'm here to help support you and work together to achieve your own goals and manage your gym time efficiently, without having to spend hours on routines that make you feel like you're making no progress.
When training together we will push you to become confident and independent, whilst outside of sessions I will support you any time of day. With a programme, nutritional advice and app support we can work together to make you become the best possible version of yourself.
Send me a message via text, email or find me on the gym floor and start to make some positive changes to your life.
Also checkout my Instagram @jmitchpt
Specialist Areas
Body confidence
Muscle tone and development
Nutritional guidance
Strength and conditioning
Weight loss
Qualifications
Level 3 Personal Trainer
Level 3 GP Referral
Level 4 Physical Activity & Weight Management Strategies for Obese Clients.
Level 4 Physical Activity & Weight Management Strategies for Diabetic Clients.
Level 2 Fitness Instructor