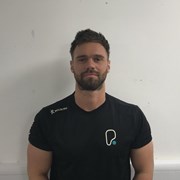 Jamie Eames
I am an ex-professional footballer, currently playing for GBMF six aside football for England. Apart from strength, speed and agility, football involves me being a good analyst and tactician. In my own time, I am currently enjoying my own strength training programme that I work on five days a week. 
I have been a Personal Trainer and Pilates Instructor for over 10 years and use my skillset to focus on each client's specific needs, whether that be general training, core strengthening, weight management or injury rehabilitation all covering the body's biomechanics which I have a real passion for knowing more of. 
Pilates has been practiced for years but previously used on professional athletes such as golfers, tennis professionals, footballers and dancers. I am now putting skills I have learnt as a Pilates instructor to use in my training to help people improve their posture, flexibility, stamina and strength amongst other interesting challenges.
Specialist Areas
Bespoke plan
Body fat reduction
Nutritional guidance
Sport specific training
Weight loss
Qualifications
Level 3 Personal Trainer
Reformer Pilates Instructor  
(Advanced) Kettlebell Expert
Power plate 
VipR  
Core advanced