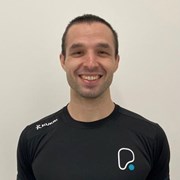 Jan Zikmund
Be stronger than your excuses
Did you make it to the gym? 
Then the hardest part is already done. 
Starting is hard, but once you commit to change, it's only gonna get easier.
Get to the gym, follow your program, progress over time. One step at a time.
Improve your diet, sleep and be happy as you watch yourself growing better every day.
Few simple principles is all it takes to succeed.
I'm here to help you get started. To make sure you make it into the gym. To stay motivated, to keep you going.
I started to work out after moving to London in 2015, and as a competitive person fell in love with the gym and martial arts shortly after. 
Although my initial goal was to be the fittest I can be for aesthetics and grappling, In recent years my focus shifted more towards mobility, nutrition and injury prevention.
Specialist Areas
Body fat reduction
Injury prevention and rehabilitation
Nutritional guidance
Strength and conditioning
Weight loss
Qualifications
Level 3 Personal Trainer
Fat Loss Specialist
Level 4 GP Referal
Level 4 Low Back Pain management