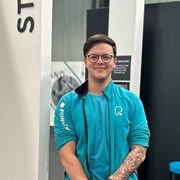 Jay McGroarty
Hi, I'm Jay,
Over the years, I have worked with a number of different people achieve their goals. Ranging from, fat loss, working on body confidence & even sports specific training.
My personal gym experience starting in competitive sports from football to kickboxing to Highland games strength events.
Going from competing in these sports to instructing some of them. I always loved the teaching side of things.
I gave up on it for a number of years. In those years I discovered new reasons why I needed fitness in my life. 
Not only physical but for mental and medical reasons. With this I took it upon myself to change things. I took the time to learn and study how to help myself as much as I could.
Over time I began helping friends in their goals with the knowledge I had gained. These goals would range from losing weight and gaining muscle, gaining confidence within themselves, and even getting stronger to compete in strength events.
Throughout my time as a Personal Trainer I have gained great personal satisfaction in, not only people striving and achieving their goals, but trying to make it as simple and stress-free as possible.
Specialist Areas
Bespoke plan
Body confidence
Body fat reduction
Muscle tone and development
Sport specific training
Strength and conditioning
Weight loss
Qualifications
- Level 3 Personal Trainer
- Qualified Sports Coach 
- First Aid Trained