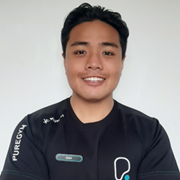 Contact
Log in to view contact details
Joan Ducusin
Hola! I'm Joan. I have been into sports and fitness for a while now. I decided to take this job and became a PT so I can help people reach their goals! And I'm loving it!
Here's a fun fact about me, I speak two other languages – Spanish and Filipino!
I've worked so hard to be in the shape I'm in and to be where I am now… So why not you as well? I believe there is people out there who want to improve their fitness or try and reach their goals, so don't be afraid to contact me!
Let's get that mindset of yours ready and let's get to work! I am more than happy to help everyone! And remember this "Always strive to be better than you were yesterday"
I hope to work with you! See you around!
Specialist Areas
Bespoke plan
Body confidence
Body fat reduction
Nutritional guidance
Sport specific training
Weight loss
Qualifications
Level 2 Gym Instructor
Level 2 EBA Basketball Coach
Level 3 Personal Training
Level 3 Sports Massage