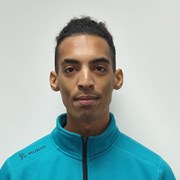 Joaquim Guerreiro
Hey, my names Joaquim but my friends call me Jo. From a young age I was never good at sport or physical activity, I just believed I didn't have what it takes to be fit and healthy and not only did it affect my body, but it had also taken a toll on my mental health. But that changed for me back in 2018 when I first started training and in 2019 when I joined PureGym, that was when I realised that everyone has what it takes to lead a healthy and fulfilling lifestyle and all it requires is taking that first step. That's why I made the decision to become a personal trainer and help as many people as I can.
Everyone wants that superhero physique and with superhero aesthetics I believe I can help you with that no matter what end of the scale you start from be it underweight or overweight you can achieve your fitness goals.
I hope you find everything you're looking for in PureGym and I can't wait to see you on your journey.
Its time to surpass your limits.
Specialist Areas
Body fat reduction
Functional specialist
Muscle tone and development
Qualifications
Level 2 Gym Instructor
Level 3 Personal Trainer