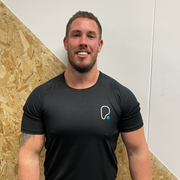 Contact
Log in to view contact details
Joe Mabbutt
My passion for health & fitness began as an overweight self conscious teenager who stumbled across the gym after school one day, I discovered the positive impact fitness had on my mental health as well as physical made me fall in love with it. 
I'm lucky enough to have been working in the fitness industry for over 10 years, allowing me to work with all different types of people, understanding the best methods to get results. My biggest drive is helping people discover their fitness potential whilst increasing their self confidence. 
I believe in a 360 approach to coaching, focusing on Mindset, Nutrition and Performance. We will build healthy, sustainable habits whilst understanding the education behind what we do in and out of the sessions. 
Expect the sessions to be fun, challenging and extremely rewarding. I will help you push to new levels that you didn't think were possible. 
I will give you all the tools needed to get incredible results, whilst being there with you every step of the way on your fitness journey.
Specialist Areas
Functional specialist
Muscle tone and development
Nutritional guidance
Strength and conditioning
Weight loss