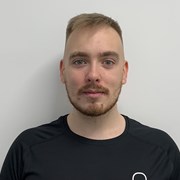 Jordan Loydon
Hi, my name is Jordan, I am a big believer in continuous self improvement and the quote above is one I live by. 
I have spent many years of my life chasing perfection, not always in the best way and have honed my craft through my own weight loss journey. I have broken every barrier I have put in my own way, and I want to help anyone and everyone in walking their own path the right way.
I want you, the reader, to know that your fitness journey shouldn't be scary it should be a journey you take with pride!
Have you ever stopped yourself from achieving what you deserve in any other part of your life? Do you want a better relationship with food? Are you nervous about your journey? Confused about next steps? Are you ready to become the you that you deserve to be?
Reflect on these questions and get in touch you don't have to do this alone!
Thank you for taking the time to read this, it means a lot. Please don't hesitate to say hi.
Specialist Areas
Bespoke plan
Body confidence
Body fat reduction
Injury prevention and rehabilitation
Nutritional guidance
Persistent motivation
Postural correction
Weight loss
Qualifications
Level 2 – Fitness Instructor
Level 3 – Personal Trainer
NASM OPT Certified Trainer