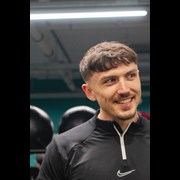 Jordan Oberdries
Sick and tired of being stuck in the same place and not sure what to do and how to get out of it? Are you finding the gym and intimidating place to be?
If that's you, I can help!
I work with people who seek to transform their body and build their confidence in the gym so they can improve their life.
My approach is about keeping methods simple and effective, allowing you to enjoy your favourite foods and be able to spend time with your loved ones, all whilst still making great progress in the gym without the need to constantly punish yourself for it.
I've been there and I understand the frustration that comes with spending hours daily pushing yourself as hard as you can and not seeing the results you want.
I'm here to help you bypass that struggle and help you achieve your own goals, without countless hours in the gym everyday.
Whilst training together we will push far beyond just our training by supporting you outside, any time of the day, helping you evolve into the best possible version of yourself that is body confident and pain-free.
Send me a message and let's get started on changing your life.
Specialist Areas
Bespoke plan
Injury prevention and rehabilitation
Nutritional guidance
Strength and conditioning
Weight loss
Qualifications
Level 2 Fitness Instructor
Level 3 Personal Training