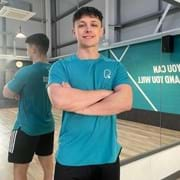 Jordan Thomson
Before I started my fitness journey, I was low on confidence and felt unmotivated to stay consistent with exercise. Through gaining an interest in fitness during the 2020 lockdown, I decided to follow a gym programme to gain strength and improve my physique which has led me to where I am today.
As a personal trainer, I look to work with everyone from beginners right through to advanced gym members. I can help with weight loss, strength training and overall fitness. I also specialize in physique and muscle building.
If you're looking to make a good start or get ahead in the gym, then please get in touch for coaching and I'll see how I can I help you reach your goals.
Specialist Areas
Body fat reduction
Muscle tone and development
Persistent motivation
Strength and conditioning