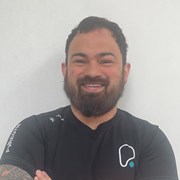 Jorge Campos Gonzalez Blanco
I recently relocated from Sweden where I was a personal trainer for 10 years as well as an international rugby player for 5 years.
I use my experience in different sports to extrapolate the training methods that are most relevant for my clients. This makes it more engaging, more fun and usually achieves way better results!
I can help you access a new lifestyle with an introduction to the world of Dumbells, Barbells and Cables. I follow strict biomechanic principles to ensure you exercise in as safe and efficient a manner as possible.
I mix professionalism with a sense of humour so our sessions become something you genuinely look forward to doing! You will laugh, sweat and become a more functional human being!
You can do anything you put your mind to,
together we can do it faster and safer!

Instagram : Freeweightsfitness 
Specialist Areas
Bespoke plan
Body confidence
Body fat reduction
Muscle tone and development
Nutritional guidance
Sport specific training
Strength and conditioning
Weight loss
Qualifications
Level 2 Gym instructor 
Level 3 Personal Trainer