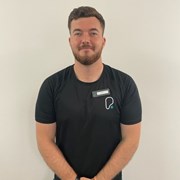 Josh Edwards
Hey, I'm Josh very approachable anytime you want to ask any questions or come talk to me feel free to come over and have a chat, as I'm more than happy to talk about anything you want to ask me about.
I used to be a professional in 2 different sports and am now semi-pro in 1 and looking to play for GB in another, I understand what it is like to build and have to maintain a professional athlete's body both physically and mentally.
I have suffered severe injuries which have stopped me from being to function properly and be able to play sports and I had to go through a process to rebuild my body physically due to various injuries, which takes a toll on your body mentally as well which is why I also focus on the mental side of health and wellbeing, fitness and rehabilitation and strength and conditioning.
Specialist Areas
Body confidence
Body fat reduction
Muscle tone and development
Nutritional guidance
Persistent motivation
Postural correction
Sport specific training
Strength and conditioning
Weight loss
Qualifications
Degree in Nutrition and Exercise Science
Level 3 Gym and Fitness instructor
Level 3 Personal Trainer
Sports Coach
Mental Health and well-being
Strength and conditioning
Body Fat Reduction
Nutrition