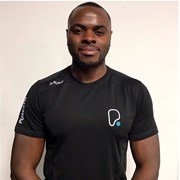 Joshua Conde
Former rugby player and now body composition coach specialising in Strength, Muscle Building, Conditioning and Weight Loss.
My passion for health and fitness revolves around you looking and feeling your best while moving exceptionally well. Mobility - flexibility - pain-free ranges – correct posture – correct form - STRONG. That's what I'm about.
I have also spent the past five years honing my skills for body composition coaching, so if you have a goal to transform your physique (fat loss and muscle gain) then contact me.
Results driven coach specialising in calculating and mastering your own personalised macros. Bikini, Men's Physique and Bodybuilding competition prep.
Pro tip: Recommended daily allowance of protein to optimise muscle repair and growth in a resistance-trained athlete is = 1.3 to 1.8 grams of protein per pound of bodyweight. I am a lover of God, deadlifts, rugby, protein bars and science - remember that.
Instagram: joshua_whatitdo_conde
Specialist Areas
Bespoke plan
Body confidence
Body fat reduction
Injury prevention and rehabilitation
Muscle tone and development
Nutritional guidance
Strength and conditioning
Weight loss
Qualifications
AIQ Level 3 Diploma in Personal Training
NASM Optimum Performance Training (OPT) Certificate
NASM Fitness Nutrition Specialisation
Active IQ Level 2 Fitness Instructing