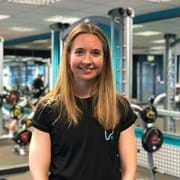 Jekaterina Sinelnikova
My name is Kate and I am a certified Level 3 Personal Trainer and Les Mills GRIT Series instructor.
My main focus is free weights, especially compound exercises, and high-intensity interval training in the context of 1-2-1 or small group Personal Training. My main goal is to use my first-hand training experience to help you shift your fitness to the next level whether you are new to the gym, or have been training for a while and have plateaued, whilst making your training enjoyable. Everyone has got potential for improvement, and I believe that a trainer is the person who can help unleash it.
My fitness journey started three years ago when I first joined PureGym. I was lean, not very strong, and not confident in my own body. I could not even perform a single push up or squat properly. Within approximately nine months of starting training with weights four times a week and, most importantly, eating right, I put on at least 10kg of lean muscle mass, and my metabolism has gone through the roof, which allowed me to increase my daily calorie intake by 1000 calories for sure. Nevertheless, I was looking leaner than ever before, feeling strong and not bulky at all. I started to become more confident and happier!
I also got addicted to Les Mills GRIT classes – I was determined to keep improving my performance. At one point I realised that I had improved so much that I could teach this crazy workout, too! Looking back, I realise that persistence brings about success, and there are no limits to what you can achieve!
Come and say hello if you see me on the gym floor. Any questions are welcome. For more information on Personal Training or nutritional advice send me an email at [email protected]; for some inspiration visit my Instagram @empoweredinburgh
https://www.instagram.com/empoweredinburgh/
Specialist Areas
Bespoke plan
Body confidence
Body fat reduction
Nutritional guidance
Strength and conditioning
Qualifications
REPS Certified Level 3 in Personal Training
Level 2 Award in Olympic Weightlifting
Certified Level 2 Gym Based
Certified Les Mills GRIT Coach