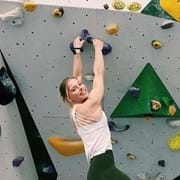 Contact
Free first session offered
Email me
Katie Giambrone
If there is one thing that my degree in Sport and Exercise Science has taught me, it is that being physically active and leading a healthy lifestyle will benefit every aspect of your life. Being active and eating healthily should be a maintainable lifestyle choice, not a hardship!
Whether you want to lose a few kilos, burn off some fat, build some muscle, or just receive some general guidance and motivation during your fitness journey, I'm here to help you achieve your goals.
I have been involved in fitness and sports environments all my life, and I know first hand the physical, mental and emotional benefits that being active can bring, from rowing at a national level, running half marathons, to studying sport and exercise in detail.
Take the next step - contact me for a free consultation today!
Specialist Areas
Body fat reduction
Muscle tone and development
Weight loss
Qualifications
Certified Level 2 – Gym Instructor
Certified Level 3 – Personal Trainer
BSc Sport and Exercise Science Hons