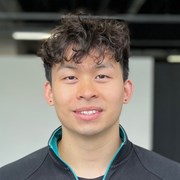 Contact
Free first session offered
Email me
Kevin Choo
I started training 16 years ago and fitness has in one form or another been a part of my life. I have over 10 years' experience of training in Chinese martial arts and I am an Instructor. Currently holding nine health & fitness qualifications, I believe in constantly improving myself to better help those that want to improve their lives.
Fitness isn't just about being physically fit but also mentally fit. It's about making changes in your life to make you feel better and the great feeling of success that you will feel from constantly defeating the past-version of yourself.
Want to make some positive changes in your life? the first step can be the hardest but once you commit to it, your limits are further than you thought.
I understand how frustrating it can feel when you aren't getting the results you deserve and that's why I work with my clients to make sure they find what works best for them. I'd love to have a chat to discuss how I can help you with your goals and see if you'd like to have me in your corner as you tackle them.
Please drop me a message or grab me in the gym so I can answer any questions or concerns you have.
Specialist Areas
Body fat reduction
Muscle tone and development
Strength and conditioning
Qualifications
Level 3 Personal Trainer
Level 4 Obesity & Diabetes Specialist
Level 3 Sports Conditioning