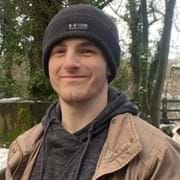 Kieron Sedgwick
Whether you're new to the gym or wanting to improve your existing training, I can help you.
I'm always looking to improve as a trainer and enjoy lots of different forms of exercise.
Many people find themselves wandering around the gym, with no real goal and making things up as they go. If this sounds like you, then I can teach you the things needed to take control of your training and start moving towards your goals.
Training for the military? Want to lose weight to spend more time being active with your kids? Whatever your reason for training is, I will give you the tools to get there and be in a healthier and happier position than you are now.
So if you're looking to lose body fat, get stronger, gain muscle, improve your posture and much more, then feel free to come have a chat if you see me on the gym floor or get in touch via phone or email to book a free consultation!
Specialist Areas
Body fat reduction
Muscle tone and development
Weight loss
Qualifications
- Level 3 Personal Training
- Enhanced Suspension Training
- Enhanced Kettlebells