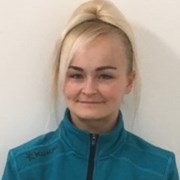 Contact
Log in to view contact details
Lauren Davis
I was once a very shy girl who hated what she saw every time she looked in the mirror and I was only running myself to the ground by doing endless amounts of cardio and eating very little food.
I eventually got sick of chasing certain numbers but never feeling healthy, satisfied or happy with how I look. This is when I decided to become physically and mentally the strongest version of myself I can possibly be and live my best life by awarding my body with the most nutrient dense foods to fuel my body and to push my body and achieve things it never had done before.
Your body is your home for life, makes sense to look after it as best as you can and make the most of it.
I am a very passionate and motivated Personal Trainer who prioritises attaining outstanding visual and emotional results for clients whilst applying physical exercise to achieve their goals in a way that is bespoke and most of all fun. I am fully committed to the success of my clients. My training consists of varied techniques specific to my client's fitness goals but at the same time, making sure the workouts are enjoyable and make the clients feel comfortable and confident.
Whether your goal is to gain muscle mass, create a toned physique and lean down or just become fitter in general.
I am available for PT sessions Mon & Tuesday 6am-7pm, Wednesday 6am-2pm, Thursday 6am-7pm, Friday 6am-9pm, 2pm-6pm and Saturday 11am-3pm.
Specialist Areas
Bespoke plan
Body confidence
Body fat reduction
Muscle tone and development
Nutritional guidance
Persistent motivation
Weight loss
Qualifications
Level 3 Personal Training
Level 2 Gym Instructor
Emergency First Aid at Work