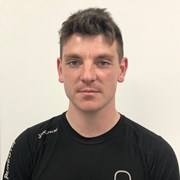 Contact
Free first session offered
Email me
Lea Poole
Having been a PTI in the Army Reserve for 6+ years, some may think that my training style can only be tough and regimented but that's absolutely not the case. Training is supposed to challenge you and breakdown the barriers you have but those are different for everyone and that's where my experience plays its part.
Are you a keen sports person who may be looking for their next challenge and needs some guidance or maybe injury has made you rest up for more time than you'd have liked?
Are you concerned about returning to the gym after time off, worried about not being able to do what you did before or the discomfort that you could feel from pushing your body?
I work primarily (but not solely) with people like you...let me guide you to and through your next challenge, get you back in the game, or simply moving pain-free.
Your mindset when tackling training is the biggest barrier to overcome for many. With a strong experience in mental wellness, keeping you positive, motivated, believing in yourself and your abilities is my ultimate goal. What's yours?
Consistency is the key to achievement...do you believe you can? I believe you can!
Let's start the next stage of your fitness journey together.
Business Hours: 
Monday: 0600-1400
Tuesday: 0600-0900 / 1600-2100
Wednesday: 0600-1400
Thursday: 1100-2100
Friday: 0600-1700
Saturday: 0600-0900
I endeavour to reply asap within a 4-hour period during business hours.
Specialist Areas
Functional specialist
Injury prevention and rehabilitation
Persistent motivation
Weight loss
Boxing
Qualifications
Level 3 Personal Trainer
TRX / Suspension Training Instructor
Running Fitness Coach 
Circuit Training Instructor
Level 2 Kettlebell Strength & Conditioning

HIIT Instructor