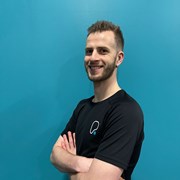 Liam Stewart
With Liam's Timber Yard you can shift
timber (or build muscle). But together we
can shift so many things. Your balance
your sense of well-being, your serenity.
And It can start with something small, like
a banana. Through exercise, meditation
and communication we can make massive
changes; physically and mentally.
My background? I'm a musician.
What I deliver? FUN sessions that don't
feel like a work out.
How do I coach?
"Only been training with Liam for about a
month, but he has helped me so much
already, getting me out of my comfort zone
and into the free weights area. And he
makes PT sessions so fun!"
"He listens more than most people and
understands my lack of time and energy."
"My last great campaign in my own war of
Hope Vs Defeat (I am winning)"
Qualifications
Certified Level 2 - Fitness Coaching 
Certified Level 3 - Personal Training