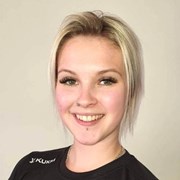 Lilli Sims
I'm here to help you!
With my knowledge and your visions we can achieve your goals physically and mentally.
I started training as a dancer, before taking a side step into the fitness industry.
My mission is to give you a positive, fun experience whilst enhancing your lifestyle. Using the best of my knowledge, experience, guidance and support to achieve your goals however big or small they may be.
We will find a suitable training style and plan for you as an individual.
Don't hesitate to contact me, let's start your journey today!
Specialist Areas
Body fat reduction
Muscle tone and development
Strength and conditioning