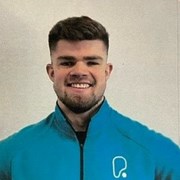 Louis Graham
Hey, I'm Louis!
The chance to work in an industry in which you're passionate happens few and far between. Since discovering the gym in my mid to late teens, specifically weight training, I've been dead set on turning my hobby into a passion, attaining the chance to help individuals achieve their fitness goals.
I don't doubt I'm the millionth PT to say this, but physical fitness goes far beyond enhancing your appearance. It creates a bulletproof mentality, allows you to set continual goals, boosts your confidence as well as providing structure to your lifestyle to be a fitter, healthier and happier version of you.
The core foundations of my personal training services entail structured and efficient sessions. In addition, I aim to upskill your knowledge, ensuring that you're further educated regarding fitness as a whole and areas within.
If you see me around, feel free to pull me over a chat or grab a business card – I'll be more than happy to hear from you and help as best I can!
Specialist Areas
Body confidence
Body fat reduction
Muscle tone and development
Persistent motivation
Sport specific training
Weight loss
Qualifications
Level 2 Gym Instructor
Level 3 Personal Trainer