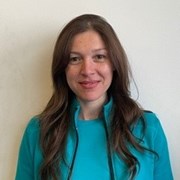 Luciana Massari
Hi I'm Luciana ( Lu)
From what I've experienced so far being fit goes way beyond just a physique, it's a lifestyle that gives you the ability to constantly overcome adversity and failure, available to everyone, and NO, it's never too late !!!
I'm originally from Brazil and have lived in a few countries around the world which has given me the opportunity to experience and learn a lot from different cultures, people, and situations in Life . Five years ago, came to UK and I signed up as a Pure Gym member and I never guess how much that would change my life!
As a mum of two having to balance a full-time job I had to overcome many challenges along my fitness journey, this taught me how to best utilise my limited time in the gym, to get the best out of my training sessions.
That's when I decided to "LEVEL UP" and take the challenge turning my passion into a career becoming a qualified personal trainer to be able to help others towards a happier and healthier lifestyle .
With the right plan, determination, and consistency you won't believe what amazing things your body is capable of! I would love to be a part of your journey, share my experience with you and show you the way to LEVEL UP your fitness game too!
Specialist Areas
Body confidence
Muscle tone and development
Strength and conditioning
Weight loss
Qualifications
Level 2 fitness instructor
Level 3 Personal Trainer
Nutrition advisor
SAQ training