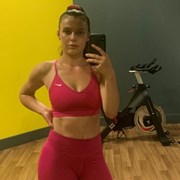 Marigona Rexhepi
As a mother of two, I know just how hard it can be to find the time, energy and determination to make that change to be a healthy, confident version of yourself.
Being fit and healthy is a mentality, not a look. The look is a side effect of the way you think. Change your thoughts and you will change your body. Don't beat yourself up over your failures. You may fail. We all do. Use them as a means to learn about yourself and build yourself up stronger for the next challenge.
Together we will get the full benefit out of your journey, leading you to live a confident and healthier life, and achieve the physique you've always desired!
Specialist Areas
Body confidence
Body fat reduction
Muscle tone and development
Nutritional guidance
Persistent motivation
Strength and conditioning
Weight loss
Qualifications
Level 2 Fitness Instructor
Level 3 Personal Trainer