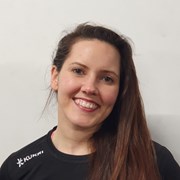 Contact
Free first session offered
Email me
Marriam Alsayegh
Health and wellbeing are your birthright! Let's make a success of them! Helping you take control of your fitness is where we start...but it's not where we end up. In nine months a baby is fully formed to come earth-side. Same for you in nine months you can transform and reinvent yourself. Start by doing "Hard things". 
A new look, a new career, a new perspective on where you are taking your life can all be achieved and I will support you along the way. Building your self-esteem is where we start. Expanding your self-belief that's how we Glowup!
I know first hand what it feels like to be lacking in self-esteem, it happens! 
As Soon as your disciplines slip by the wayside. So does your belief in you and It did for me too. I just sailed along in life with no plan, I didn't ask for what I wanted. I waited for others to join me before I took the chance. I wasn't educating or expanding on my personal growth. I seriously lacked the ability to reinforce disciplines to achieve goals. And well, I felt really unhappy with my life. 
I personally shine light on your mindset and work closely with you providing all kinds of tools to help you overcome the way of thinking that has brought you here. 
So expect results like:-
Confidence in knowing what you want.

Loving the physique you have been working on and how your clothes fit you. 

People telling you you look great and you agree. 

To feel vibrant, sexy and full of energy. 

The drive to start that side hustle.

To look glowing and healthy.

Connecting with a healthy way to eat the foods you love. 

To love the life you are living 

To see beyond a difficulty in your life. 

To manage your way of coping with difficulty. 

To really start exploring what you want to achieve next.
Expect fun, expect to be surprised at how far you will come and expect to see yourself from a broader perspective. I'm here to support you and show you that you had it all along!
Specialist Areas
Body confidence
Muscle tone and development
Weight loss